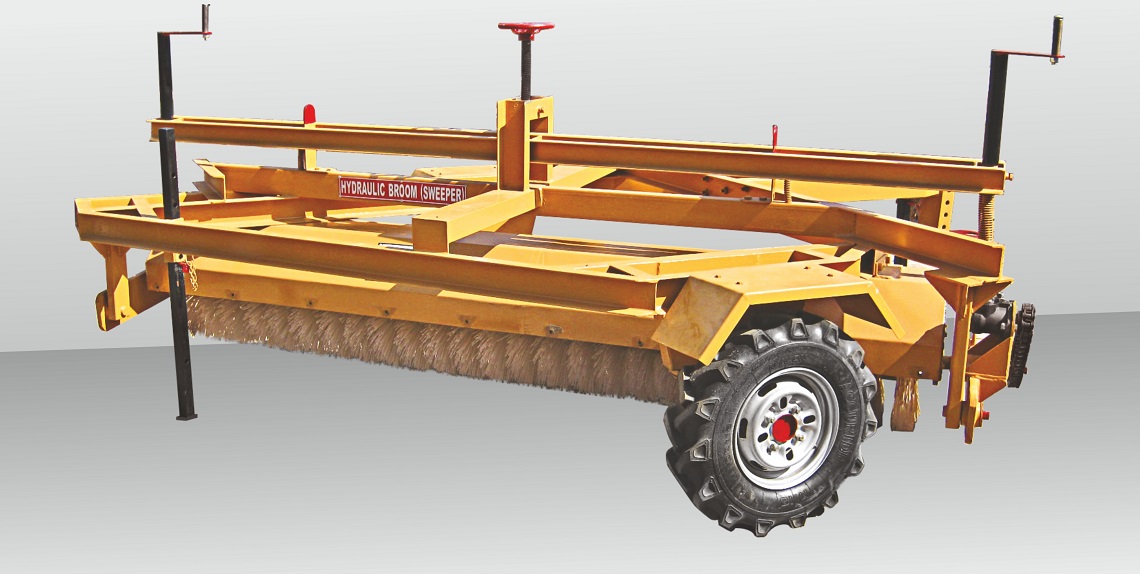 THE ROAD SWEEPER IS CONSTRUCTED FROM A PRESSED STEEL SHELL WHICH GIVES AN EXCELLENT STRENGTH TO WEIGHT RATIO. IT IS A TRACTOR MOUNTED ROAD SWEEPER MACHINE DRIVEN FROM THE TRACTOR HYDRAULIC SYSTEM. IN THE HYDRAULIC BROOM THE BROOM IS MOUNTED ON TWO WHEELS WITH THE ENTIRE UNIT BEING TOWED BY A TRACTOR. HOWEVER, THE CIRCULAR MOTION OF THE BROOM IS ACHIEVED HYDRAULICALLY; THE HYDRAULIC PIPES COUPLED WITH THE TRACTOR HYDRAULIC SYSTEM AND BRUSH SECTION MOVING BY HYDRO MOTOR. RAISING AND LOWERING OF THE BROOM IS ALSO A HYDRAULIC FUNCTION.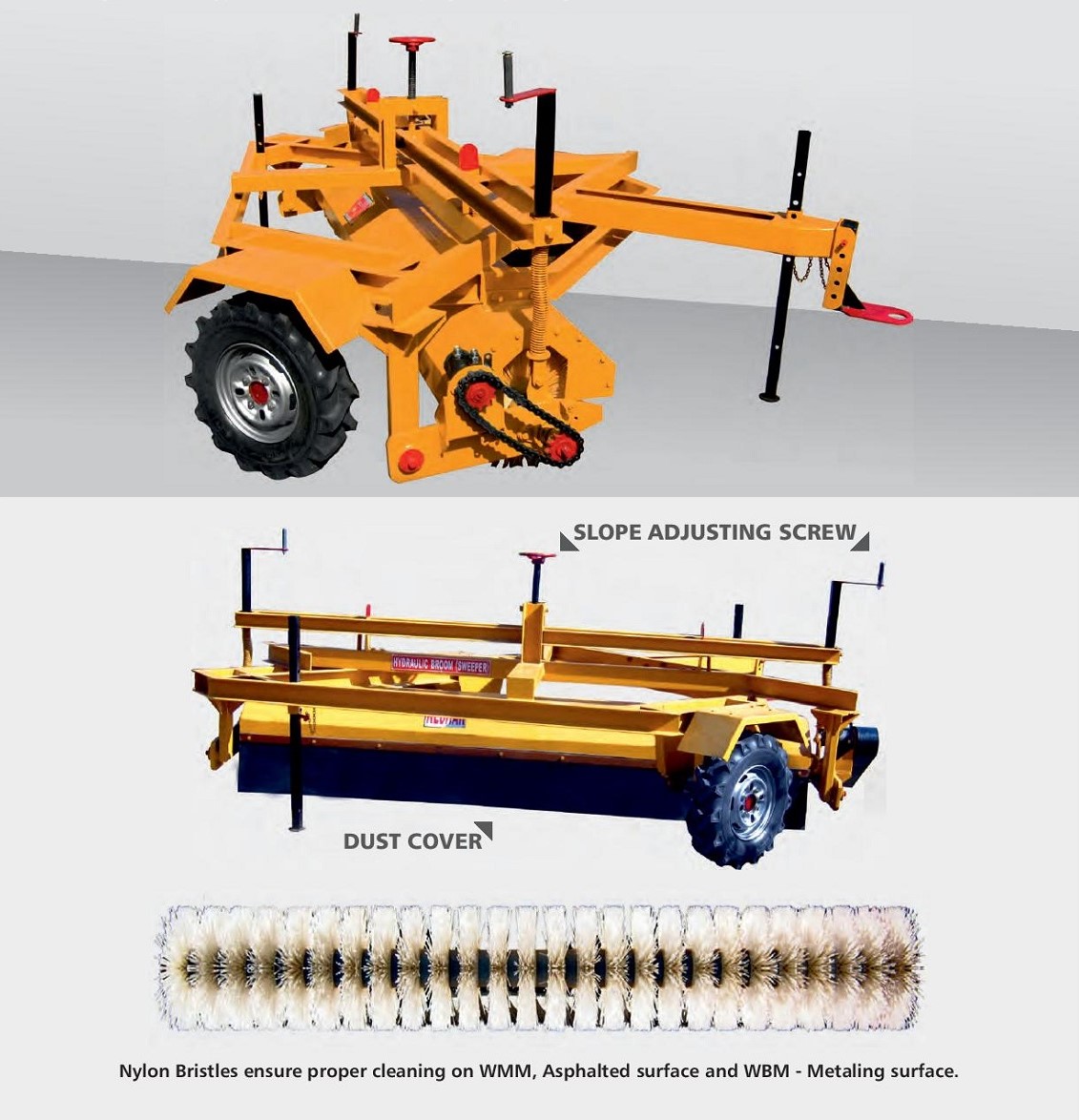 ROAD SWEEPER WITH BUCKET
IN THIS MODEL THE DUST, DEBRIS AND WASTE MATERIAL GETS COLLECTED IN THE WASTE BIN AND DISPOSED INTO A PIT WITH THE OPENING OF THE MANUAL LEVER. THESE ROAD SWEEPER MACHINES MAY BE USED TO SWEEP STRAIGHT AHEAD (FOR COLLECTION) AND IN LEFT SIDE ANGLED POSITIONS FOR DUST OUT FROM LEFT SIDE.
AVAILABLE WITH SMALL DEBRIS COLLECTOR BOX AND WATER SPRAY EQUIPMENT AS OPTIONAL.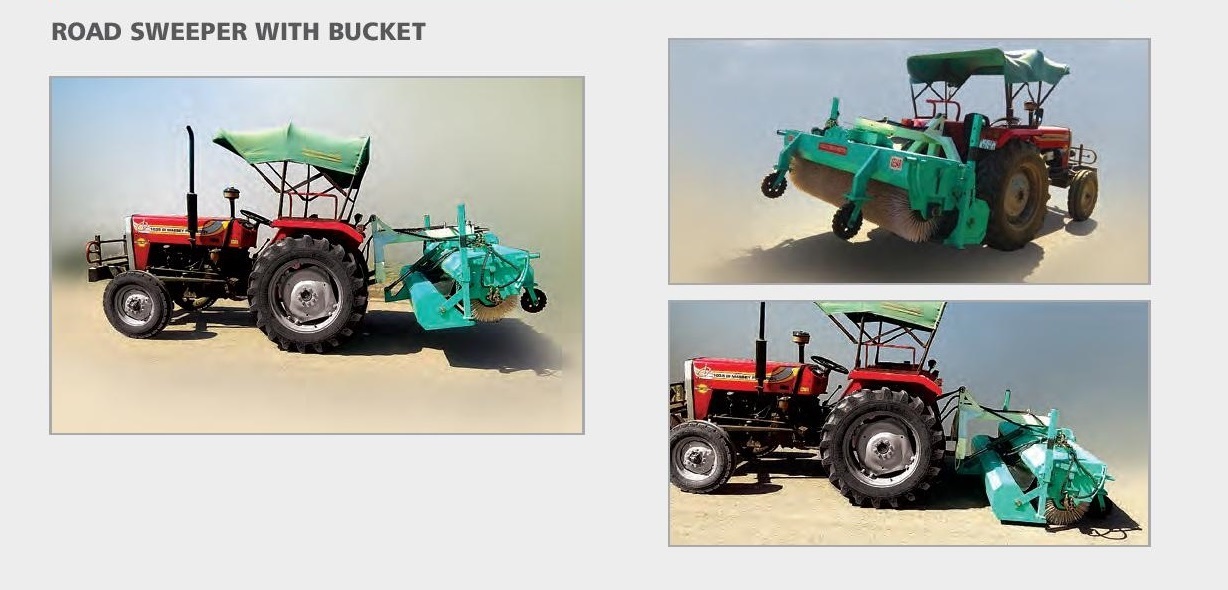 ROAD SWEEPER WITH BUCKET & SIDE BRUSH SYSTEM
In This Model The dust collect From Divider Angular area, debris and waste material gets collected in the waste bin and disposed into a pit with the opening of the manual lever. These road sweeper machines may be used to sweep straight ahead (for collection) and in Left Side angled positions for Dust out from left side.
available with small debris collector box and water spray equipment as optional.